Baxter Recognized as an Inclusion and Diversity Leader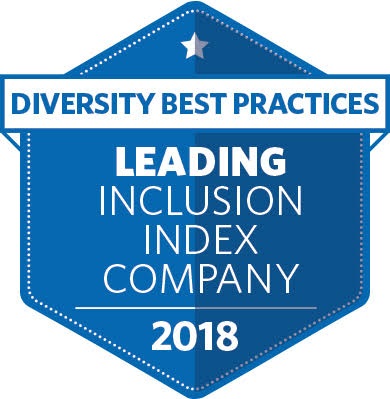 Baxter is proud to be recognized on the 2018 Diversity Best Practices (DBP) Inclusion Index of U.S. companies, which measures a company's performance in fostering diversity and inclusion in recruitment, retention and advancement of people from under-represented groups – women, racial/ethnic minorities, people with disabilities and LGBTQ people. Among other measures, the DBP Index also evaluates how a company fosters a culture that values diversity and inclusion. Baxter was noted for its superior achievement and is rated as a Leading Index organization.
Fostering an inclusive and diverse culture within Baxter is aligned with our top-quartile goal of being a best place to work. Every day, in addition to fulfilling our mission of saving and sustaining lives, we work to build a diverse, high-performing organization where employees pursue rewarding careers, feel engaged and included and promote an atmosphere of trust.
"Baxter is committed to attracting, motivating and retaining an inclusive and diverse workforce to drive healthcare innovation that betters the lives of the patients we serve," said José (Joe) E. Almeida, Baxter chairman and chief executive officer. "Integrating different backgrounds and perspectives within all facets of our organization is what allows us to continue delivering on our mission to save and sustain lives."
Baxter is committed to a culture where employees can collaborate and work together effectively. The company offers education and training programs that promote inclusion and diversity, including a program that helps employees recognize unconscious bias, its effects and ways to remove it.  Additionally, employees can participate in Business Resource Groups (BRGs) where they can develop skills, experience valuable culture connections and support key business initiatives. Baxter has eight established BRGs: the African American Leadership Council, Asian Leadership Network, Latinos@Baxter, Baxter Equality Network, Baxter Women Leaders, Baxter EnAbles, Early Career Professionals and BaxVets. And the company has established a Global Inclusion Council comprised of senior leaders from the company's businesses, regions and functions to help drive the company's global inclusion and diversity priorities.